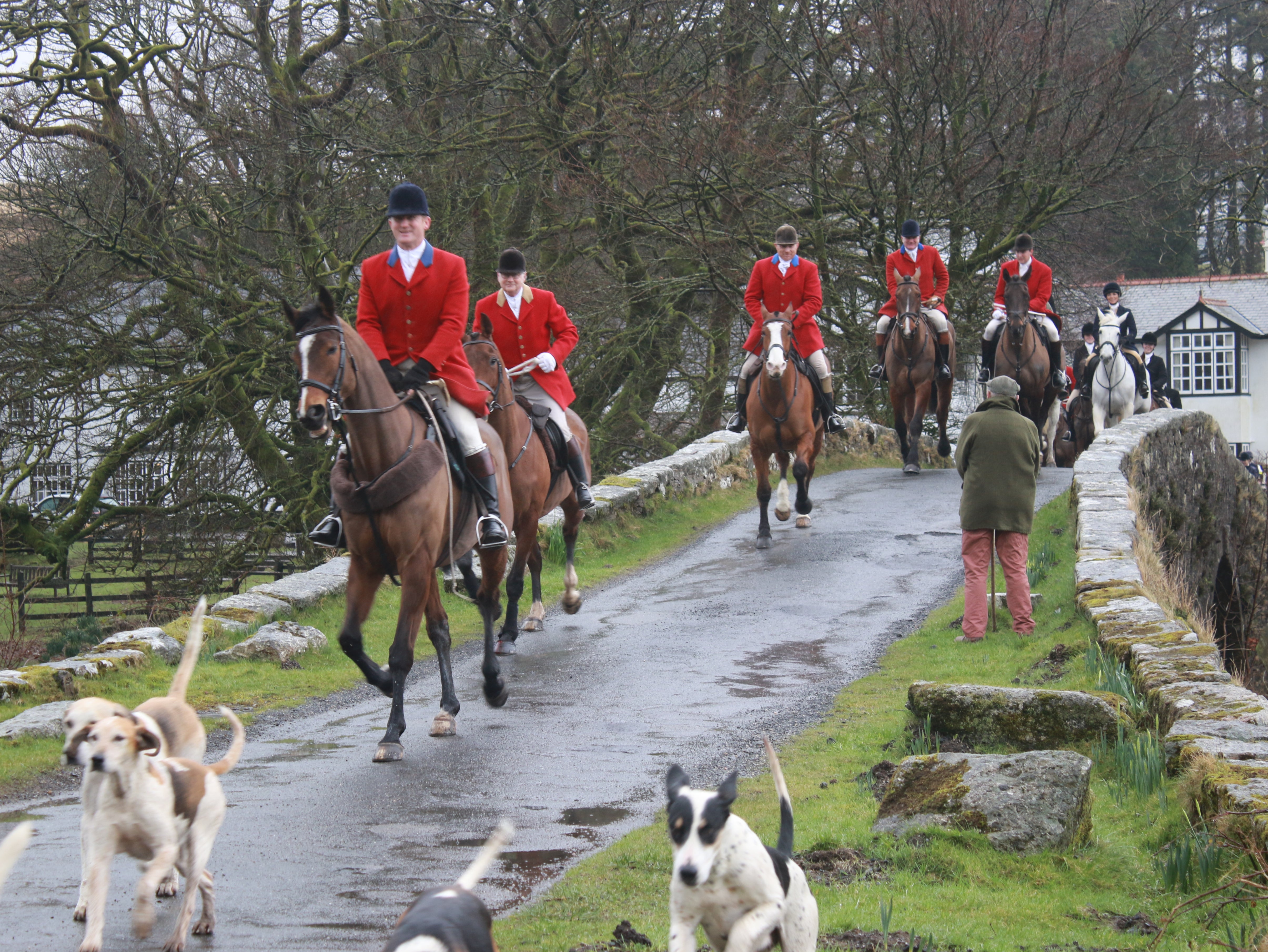 Trail-hunting
Two of the UK's large landowners have become the latest in a series to suspend trail-hunting on their land after police launched an investigation into meetings by hunt masters where they discussed creating "smokescreens".
Hunting opponents celebrated that the changes would mean the UK land being put out of bounds to trail-hunters comes to at least 1.8 million acres.
Clare Pillman, chief executive of Natural Resources Wales, said: "Natural Resources Wales (NRW) has suspended all trail hunting permissions on the NRW-managed estate with immediate effect, pending the outcome of a police investigation into activities involving The Hunting Office.
"All trail hunting activity planned for this season will be paused, and no new permissions will be granted until this investigation has concluded."
The decisions by five of the UK's biggest landowners increase pressure on others, including the Ministry of Defence (MoD), Duchy of Cornwall and Church of England. They are also facing calls from animal-welfare supporters to withdraw licences for trail hunts.
When asked by The Independent whether it, too, was reviewing its policy, the Duchy of Cornwall declined to comment.
A spokesperson for the MoD said: "The Hunting Act 2004 makes it an offence to hunt a wild mammal with dogs and completely bans hare coursing. Those found guilty under the Act are subject to the full force of the law."
Police say they are working with the Crown Prosecution Service to see whether any criminal offences were committed during the two hunters' webinars.
In the meetings, dozens of hunters and two retired police officers appeared to share tactics ranging from justifying the presence of terrier men to legally using a bird of prey, which one described as a "terribly good wheeze".
The Lake District National Park Authority said it was aware of the claims made about the webinars, saying: "Whilst these allegations are being examined by the police and Crown Prosecution Service to determine if any criminal offences have taken place, we have suspended trail hunting on National Park Authority land.
"This will include the suspension of the licence issued to the Blencathra Foxhounds. We will consider any action we need to take once the investigation is complete."
The decisions are the latest cause among a string of celebrations for conservationists in 24 hours.
Scottish ministers announced they were introducing a licensing scheme for grouse moor shooting in Scotland in an effort to stop the illegal killing of birds of prey. They said self-regulation was not enough to end the illegal persecution of raptors.
At the same time, the unlicensed culling of mountain hares is also being made illegal in Scotland.
Specialist blog Raptor Persecution Scotland hailed the licensing move "a historic decision", and the RSPB Scotland said: "We hope that, if enacted, this will help consign the illegal killing of Scotland's birds of prey to the history books."
The RSPB's Scotland director Anne McCall said robust licensing would "act as a genuine deterrent to this still-widespread criminal activity".
Following publication of a report on the grouse industry, rural affairs minister Mairi Gougeon said greater oversight was needed of the practices involved in grouse-moor management.
But gamekeepers claimed licensing would hit their businesses hard, attacking the "never-ending scrutiny and inquiry driven by elite charities with big influence".
The RSPB said it recorded 28 cases of raptor persecution in Scotland last year, including disappearances of satellite-tagged golden eagles and hen harriers on grouse moors.
During the first lockdown, wildlife police and the RSPB said birds of prey were illegally shot, trapped and poisoned in increasing numbers, as criminals took advantage of quieter rural areas.
A Hunt Saboteurs' Association spokesman said: "The large public landowners are realising that they must suspend hunt licences if they don't want to be accused of colluding with an illegal activity.
"In the past 24 hours, at least one-and-a-half million acres have been put out of bounds to the hunts, and we look forward to that figure rising. The ministry of defence must surely be the next announcement or they risk mass public condemnation."
The estimate of land totals involved is partly based on research by Who Owns England?