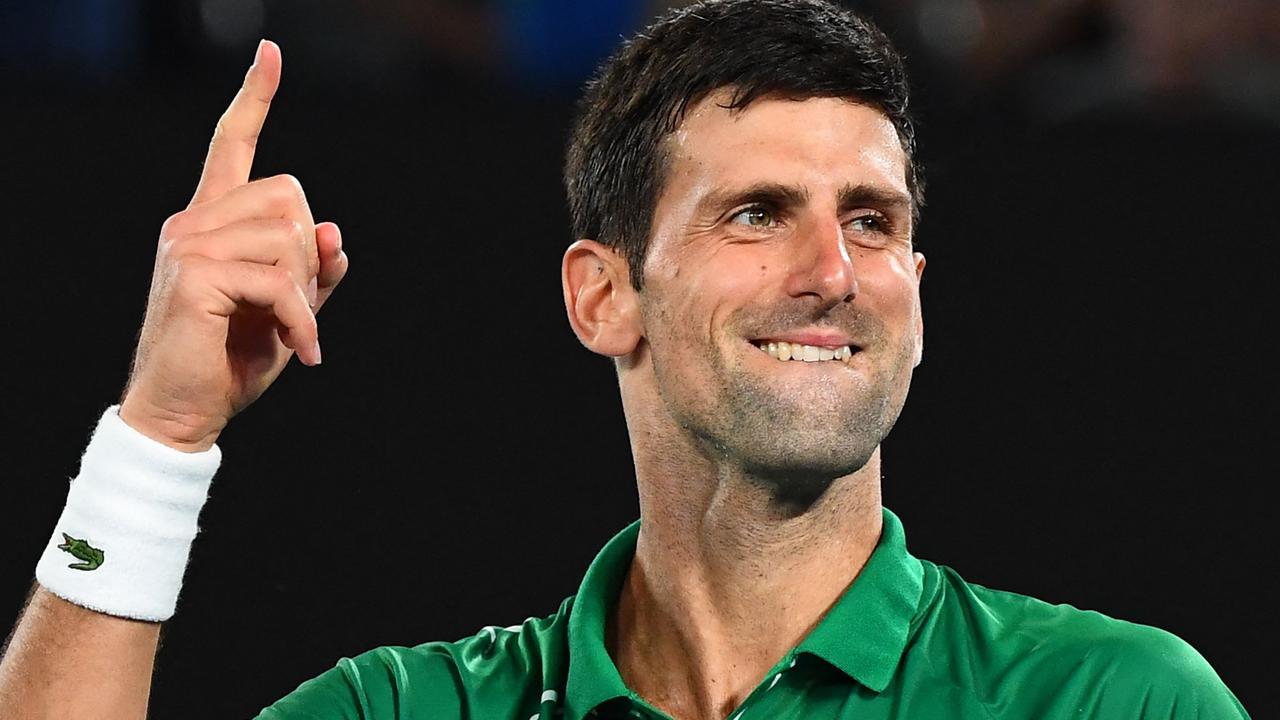 The Immigration Minister has broken his silence and revealed whether or not Novak Djokovic will play at the Australian Open.
Novak Djokovic's Australian Open dreams have been dealt a devastating blow, with the Australian government moving to deport the Serbian tennis world no.1 player despite a judge ruling he could stay.
Immigration Minister Alex Hawke has enacted his discretionary power to overrule the decision made by Federal Circuit Court Judge Anthony Kelly earlier this week.
Djokovic now faces the possibility of being banned from returning to Australia for three years.
The announcement came a day after Djokovic had been officially named in the Australian Open draw – at which the Serb was vying for his 10th win.
In a statement, Mr Hawke said the decision was made after considering the evidence.
"Today I exercised my power under section 133C(3) of the Migration Act to cancel the visa held by Mr Novak Djokovic on health and good order grounds, on the basis that it was in the public interest to do so," he said.
"This decision followed orders by the Federal Circuit and Family Court on 10 January 2022, quashing a prior cancellation decision on procedural fairness grounds.
"In making this decision, I carefully considered information provided to me by the Department of Home Affairs, the Australian Border Force and Mr Djokovic.
"The Morrison government is firmly committed to protecting Australia's borders, particularly in relation to the Covid-19 pandemic.
"I thank the officers of the Department of Home Affairs and the Australian Border Force who work every day to serve Australia's interests in increasingly challenging operational environments."
Djokovic's lawyers are expected to file an injunction, which could be dragged into next week if the Federal Court does not sit on Friday.
That would leave open the possibility of his case being heard in the midst of the competition, but he would unlikely be able to play if he is sent back to a detention centre.
Prime Minister Scott Morrison issued a brief statement about the decision.
"I understand that following careful consideration, action has been taken by the Minister to cancel Mr Djokovic's visa held on health and good order grounds, on the basis that it was in the public interest to do so," Mr Morrison said.
"This pandemic has been incredibly difficult for every Australian but we have stuck together and saved lives and livelihoods.
"Together we have achieved one of the lowest death rates, strongest economies and highest vaccination rates, in the world.
"Australians have made many sacrifices during this pandemic, and they rightly expect the result of those sacrifices to be protected.
"This is what the minister is doing in taking this action today.
"Our strong border protection policies have kept Australians safe, prior to Covid and now during the pandemic."
The Liberal leader said he would not provide any further comment on the matter due to the expected ongoing legal proceedings.
The minister's announcement wraps up a chaotic week that drew Australia's immigration policies into the international spotlight.
Djokovic was granted a visa to enter Australia despite not being vaccinated on the basis that he had had a recent Covid-19 infection.
But, when he arrived at Melbourne Airport, he was told that he did not a valid exemption, and amid eight hours of interrogation by Australian Border Force officials, his visa was cancelled.
His lawyers immediately set out to appeal, with the case heard on Monday.
A judge quashed the visa cancellation and freed Djokovic from detention, saying the world no. 1 had been denied procedural fairness.
Mr Hawke immediately indicated he was considering whether to use another mechanism to kick Djokovic out.
ALBO SLAMS SCOMO
The Morrison government was roasted by Opposition Leader Anthony Albanese for how long it took to make a decision on Djokovic's visa.
Mr Albanese said it needed to act quickly to put the matter to rest, slipping in a brutal sledge.
"(Scott Morrison) has been using this Novak Djokovic saga as a distraction from the shortages in our supermarkets, the shortages in our chemists, the shortages of workers, the uncertainty that people have had over kids' boosters and the return to school and all the rest of it," he told reporters on Friday.
"But what we have from a government is day after day after day not making a decision where it is now almost 60 days since his visa was granted."
A spokesman for Mr Hawke said he received "lengthy submissions and documentations" from the tennis player's legal team on Wednesday, which delayed the visa decision.
Mr Morrison was asked at a Thursday evening press conference "how long will this drag on for?"
"I will refer to Mr Hawke's most recent statement and that position hasn't changed," he said in response.
"These are personal ministerial powers able to be exercised by Minister Hawke and I don't propose to make any further comment at this time."
Djokovic is now under scrutiny by both Spanish and Serbian officials for allegedly breaching Covid-19 protocols in both countries.
Spanish authorities are allegedly probing whether the unvaccinated Djokovic entered the country illegally.
Djokovic travelled from Serbia to Spain last month to train at the Soho Tennis Academy in Marbella, which uses the same court surface as the Australian Open, even though at that time it was unknown whether he would be allowed into Australia.
It has been reported Djokovic did not request permission from the Spanish embassy in Belgrade or the Ministry of Foreign Affairs to enter the country without a Covid-19 vaccine, despite Serbian citizens being required to present a certificate or exemption to enter the country.
In his home country, Djokovic is being investigated after admitting he participated in an interview while knowing he was Covid positive.
Serbian Prime Minister Ana Brnabic said on Tuesday that Djokovic would have "clearly violated the rules" if he knew the test result before he participated.
Djokovic took to social media in an attempt to clear up confusion, saying he had made an "error of judgment" in not immediately isolating after being diagnosed with Covid-19.
He also blamed "human error" by his support team for the mistake on his travel document.